ENGRAVED BRICK FUNDRAISER
Mechanicsburg Schools is giving community members and alumni the opportunity to contribute to the Mechanicsburg Stadium Project through the purchase of an engraved brick. What a great way to honor family and/or connect yourself with the long standing traditions of Mechanicsburg Exempted Village School Athletic and Extracurricular Programs! The bricks will be part of a Memorial Wall located between the ticket booth and restrooms at the new concession stand that was completed in Fall of 2018 and is located at the entrance of the district stadium.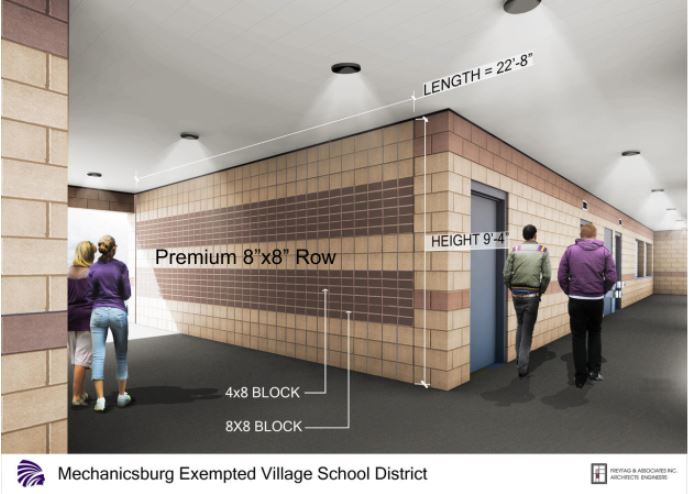 Memorial Wall contributions will also support further upgrades to the stadium, including a new scoreboard, goal posts, wind screening, and signage. Without your continued support of our students, programs, and community organizations, this upgrade would not be possible.
Two different brick sizes are available - 4"x8" or 8"x8" and you have a choice of text only or text with a symbol. (Please note that all engraving will be done in CAPITAL letters). Please refer to the sample brick image and chart below for specific size and pricing information. Complete the ONLINE ORDER FORM for your engraved face brick(s) today!
You will be asked to pay for your order online at the time of purchase and payment is required before your brick(s) will be approved for engraving. The Mechanicsburg Athletic Boosters have created a Stripe account to allow you to securely pay for all purchases online. You will preview the text and symbols you select prior to finalizing your purchase. Bricks will be engraved in batches and installed when the last brick is engraved. Tentative timeline for installation will begin when all bricks have been sold.
| | | | | | | | |
| --- | --- | --- | --- | --- | --- | --- | --- |
| | | 4″ x 8″ Brick with Symbol | | 8" x 8" Brick with Symbol | 8" x 8" Corporate Logo Brick | 8" x 8" Brick in Premium Row | 8" x 8" Corporate Logo Brick in Premium Row |
| | | | | | | | |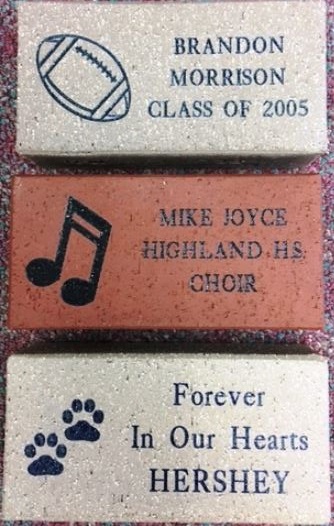 *Gifts to the Mechanicsburg Stadium Project are tax-deductible to the extent allowed by state and federal law from the Mechanicsburg Exempted Village School District.
IF YOU HAVE QUESTIONS, PLEASE SEND AN EMAIL TO: BrickFundraiser@mcburg.org